Migrant crisis: Hungary poised to shut unofficial border crossings with Croatia
Comments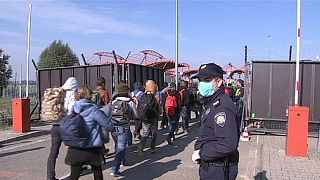 As scores of migrants continue to flow into Croatia, there are reports that Hungary could close its unofficial border crossings with the country this weekend.
Budapest has already fenced off its frontier with Serbia. That saw huge numbers of migrants switching their route, heading through Croatia instead.
As well as the possible closure of crossing points, Hungary has also been putting up razor wire along its frontier with Croatia.
"The problem must be solved in Turkey and Greece. Somebody said that the army should be sent to the Hungarian border with Croatia and Serbia. They should send ships to Greece," said Croatian Prime Minister Zoran Milanovic.
Hungary has come under fire from larger western EU countries and rights groups for the actions it's taken to keep migrants out.
Prime Minister Viktor Orban says the influx threatens to undermine the continent's Christian roots.
Croatia has repeatedly said that it has been overwhelmed and that Serbia and Hungary planned to divert everyone to its territory.
Nearly all migrants do not want to stay. They want to pass through to get to wealthier countries of the western EU.