Refugees tell of ISIL brutality which forced them to leave Syria
Comments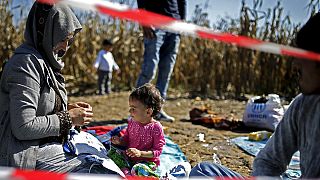 Thousands of migrants continue to cross from Serbia into Croatia. Most of them are Syrian and Iraqi escaping conflict back home.
Many have fled because of the gains made by the Islamist extremists known as ISIL, which controls vast swathes of territory in both countries.
"You know, ISIL take everything. Also, (they) take my brother, they kidnapped him. He has been missing for a year and four months," said one Iraqi refugee from Mosul.
Once in Croatia the migrants are taken for registration. According to Croatia's interior ministry over 2,000 migrants entered the country over the weekend. They talk of bombs, fighting and destruction as well as life under ISIL.
Mahir El Hallun who comes from Syria told of ISIL brutality – "Anyone smoking they cut off their fingers. Anyone not praying, they cut off their head."
Croatia quickly sends the migrants onwards towards Hungary.
Their journey may be arduous and their destination unclear but as one refugee put it, "Staying in Syria was not an option, having to watch people being killed for no reason".