Conservative coalition on course for another win in Portuguese elections
Comments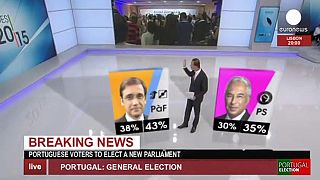 All signs are pointing to a second consecutive election win for Portugal's conservative Portugal Ahead coalition.
However, they seem likely to lose their overall majority.
Around 44 percent is needed for an overall majority in the 230-seat parliament. With 99 percent of the votes counted, Portugal Ahead stood at around 38.44 percent.
History has not been kind to minority governments in Portugal. Not a single one has lasted a full term since the country became a democracy in 1974.
Like many across Europe in recent times, the ballot is being seen as a referendum on austerity policies and market reforms.
Polls had suggested socialist leader and former mayor of Lisbon Antonio Costa has a 33% share of the vote but 15% of voters remained undecided and the abstention rate is expected to be high.
This is the first election for Portugal since it exited its bailout in 2014.
The country has endured deep spending cuts and the biggest tax hikes in living memory as it recovered from its debt crisis.
Experts are anticipating an intense post-election period of political horse-trading in the event of any party winning an absolute majority.