Pope Francis appeals to America to seize an historic moment
Comments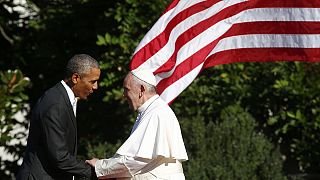 President Barack Obama has welcomed Pope Francis to the White House at the start of his trip to the USA.
The pope was given the five-star treatment ahead of a speech on the White House lawn, which included praise for Obama's efforts to reduce air pollution, and commitment to tackling climate change.
Some 15,000 people gathered to welcome Francis on his first-ever visit to the US as pope.
"You reminded us that the Lord's most powerful message is mercy. That means welcoming the stranger with empathy and truly open heart: from the refugee who flees war-thorn lands to the emigrant who leaved home in search of a better life," said Obama.
The pope called on all Americans to build a truly tolerant and inclusive society.
"I would like all men and women of good will in this great nation to support the efforts of the international community to protect the vulnerable in our world," he said.
Not all Americans have been cheered by the pope's visit, with a number of commentators fulminating at the pope's positions on a number of issues.