Cheers! Oktoberfest beer festival kicks off in Munich
Comments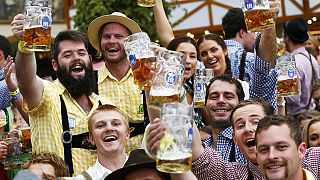 The world's largest beer festival has kicked off in Munich.
Revellers have descended on the German city for the annual Oktoberfest.
Organisers are once again expecting more than six million people, who normally consume around seven million litres of beer and over half a million rotisserie chicken during the two-week party.
Almost 20 per cent of Oktoberfest visitors come from abroad.
Many male visitors dress in lederhosen (leather trousers), typical of Bavaria, while women wear traditional dresses known as Dimdl.
The Munich Oktoberfest ends on 4 October.