Deadly storms in South of France cause travel chaos
Comments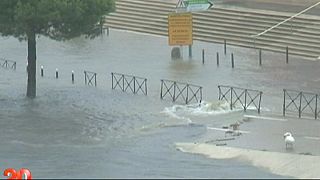 Severe storms in the south of France have left three people dead and caused major travel chaos in Languedoc.
A couple in their eighties were killed in Montpellier when their car was swept away by flood water.
The city centre was also innondated with a record .64mm of rain falling in just half an hour –
The weather also caused the shutdown of rail traffic in the region.
A high speed TGV was forced to stop due to a mudslide – all 250 passengers had to be evacuated.
It meant that all trains were cancelled in both directions between Nimes and Montpellier affecting thousands of passengers. In Cantal a 71 year-old tourist from the Paris region was killed when a tree fell on his caravan.
The stormy conditions also caused a stretch of the A75 motorway to be closed.
Another eight departments in western France are also on orange alert because of strong winds. They are the Loire-Atlantique, Vendée, Indre, Vienne, Deux-Sèvres, Charente-Maritime, Maine-et-Loire and Indre-et-Loire.