Rudisha ready to battle it out at world championships
Comments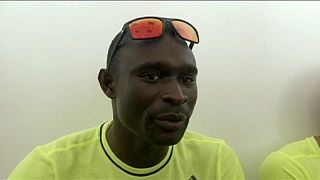 Olympic men's 800 metres champion David Rudisha visited Beijing's Bird's Nest stadium ahead of the world athletics championships which get underway on Saturday.
Two years after a knee injury robbed him of the chance to defend his world title in Moscow, the 26-year-old Kenyan, who has run six of the eight fastest times ever over two laps, thinks he will be in contention for gold.
Usain Bolt, seeking to retain his 100m and 200m titles, said he believed tougher regulations will help in the fight against doping.
The governing International Association of Athletics Federations has spent the three weeks leading up to the World Athletics Championships defending its record on doping after a string of embarrassing leaks.
Newly appointed president Sebastian Coe, who was elected on Wednesday, has promised to set up an independent anti-doping body for the sport.