Tianjin homeowners stage anti-government protest over chemical blasts
Comments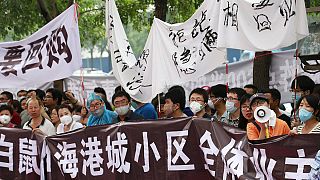 Exactly a week after the deadly chemical plant explosion in China, homeowners whose estate was destroyed staged a protest in Tianjin, outside a centre where government officials have been holding news conferences.
It was the latest of several demonstrations against the authorities.
They want the government to buy back their damaged properties and complain they are not being helped.
However a local Communist Party official said on Tuesday that a service centre had been set up to field their inquiries.
Some protesters were concerned about pollution from the destroyed plant.
"You know when these chemical facilities blow up, all these harmful objects get buried in the surrounding areas, so we don't dare to live there, it's going to have an impact on our health, our family's health and especially our children's health," said one homeowner at the protest.
Police said on Tuesday that ten executives from the warehouse owners had been taken into custody.
The company only received authorisation to store dangerous chemicals two months before the disaster.
Tests on water at the site have found high levels of cyanide.
Two blasts at one of the world's busiest ports in China's northeast killed at least 114 people. Around 60 are still missing.
Thousands were evacuated after toxic chemicals were detected in the air.