It was like hell: A firefighter who survived Tianjin blast speaks of his experience
Comments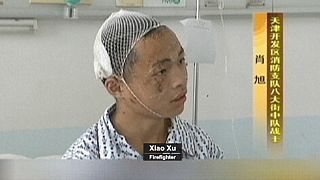 Eighteen year-old Xiao Xu was one of the first firefighters sent to tackle the blaze that ripped through a chemicals warehouse in the port of Tianjin last week.
The first responders were sent to investigate the area and reinforcements were on their way when the first blast hit.
"The whole sky was lit up. And, the blast wave sent me into the air. My helmet was gone. It was like a different world, with flames falling like raindrops on my head. The visibility was four to five meters."
"Then, I looked for safer places to hide and searched for [my] colleagues. But, I couldn't see any of them. The visibility was very low. I called their names, but no-one responded." Xiao said one of his colleagues, who was 23-years-old died in the explosions.
"[He] had just celebrated his birthday before the mission. I feel very bad, as I will never be able to see him again," he said.
"I then tried to escape with a squad leader and an officer. Our helmets were gone, it was chaotic there, and I could see nothing. It was like hell."
At least 112 people were killed in the explosions. Hundreds of people are being treated in hospital. 95 people are still missing. 85 of them are firefighters.