Egyptians swelter in deadly heatwave
Comments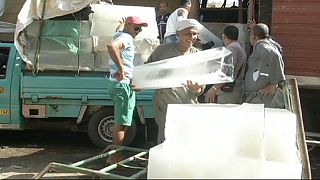 The demand for ice has reached a record high in Egypt where a scorching heatwave over the past week has killed at least 93 people.
Most of the victims have been elderly. Hundreds have been admitted to hospital for heat exhaustion.
With temperatures soaring to 46 degrees Celsius and forecasts of more to come, warnings have been issued calling on people to stay out of the sun.
The Mideast has been hit by a heatwave since last July.
Egyptian summers are usually hot, but meteorologists say the current temperatures are exceptional.
Egypt's heatwave so intense that the govt has told residents "not to leave home except for extreme necessity." http://t.co/XGW6u0bVtk

— Bill McKibben (@billmckibben) August 16, 2015