400 US flights grounded by flight tracking system glitch
Comments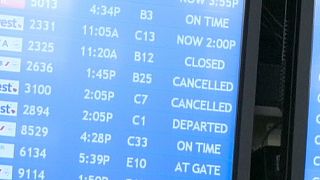 More than 400 flights were cancelled at airports along the US east coast on Saturday (August 15) because of an issue with a flight-tracking system in the Washington, DC area, according to the Federal Aviation Administration (FAA).
Tens of thousands of passengers were also affected as several hundred flights were delayed up and down the Atlantic Coast.
There were numerous delays and cancellations at Atlanta's Hartsfield-Jackson International Airport.
One passenger, Kerbie Campell said she had been forced to cancel her flight and was in danger of missing a friend's wedding.
"Well I was supposed to fly from here into Atlantic City and then from Atlantic City into Boston for a friend's wedding, and all of a sudden the flights just kept getting delayed, and it was just really annoying and so we decided to just come here, come out to the terminal and ask for a refund, instead of just waiting at the airport all day. It's just inconvenient," she said.
The FAA said that Saturday's problem had nothing to do with an accident or computer hacking.