McIlroy ready to defend PGA Championship title
Comments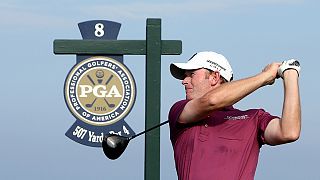 The competitors of the 97th edition of the PGA Championship have been fine tuning their swings ahead of round one that gets under way on Thursday.
World number one Rory McIlroy has recovered from his ankle injurw and is present at Whistling Straits in Wisconsin.
The four-time major champion and two time PGA championship winner from Northern Ireland says he feeling good ahead of his title defence.
He said: "I've played quite a lot of golf since starting to hit balls and it feels good. I'm finding the middle of the club face. I think the one thing for me is my short game. Is it sharp? I been basically since this happened. I was putting in the boot so I've kept that part of the game sharp so everything feels pretty good."
At 278 in the world rankings Tiger Woods will look to get his game back on track following another another awful campaign.
The four time champion said: "I don't know my exact ranking right now. I know I'm in the 200's somewhere. But as far as paying attention to it, no. I'm just trying to get better. I'm just trying to get up there where I can win tournaments, get my game organized so I can be consistent on a tournament basis".
American Jordan Spieth will look for a stunning third major title of the season to add to a fourth place finish at the British Open.
That will represent the best Major year by a player in modern history.
He also won this year's Masters and the US Open.
Crowd favourite and 2005 champion Phil Mickelson will be there or there abouts come the weekend as he hunts a sixth career major title.