Turkey suffers most violent day in recent times after wave of attacks
Comments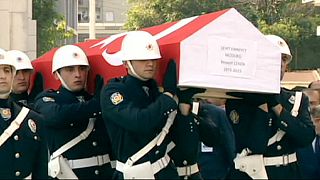 Senior members of the Turkish government including President Erdogan attended the funeral service of a officer killed in an attack on a police station in Istanbul on Monday.
He was one of eight victims of a wave of attacks across the country on the same day.
Turkey is on a state of heightened alert after Ankara started a crackdown on ISIL militants, Kurdish separatists and left-wing insurgent groups.
The officer died in Istanbul during an assault on the Fatih police station in the Sultanbeyi district. Two assailants were also killed but it's not known what group they were from.
Also in Istanbul two armed female militants opened fire on the US Consulate. Police returned fire and one of the attackers was detained after being injured.
The far-left Revolutionary People's Liberation Army Front said they were behind the attack.
Elsewhere four police were killed in Silopi in southeastern Sirnak province when their armoured vehicle was attacked by Kurdish rebels using a roadside bomb, making Monday one of the most violent days for Turkey in recent times.