Why is Turkey taking on Kurdish and Islamic State militants?
Comments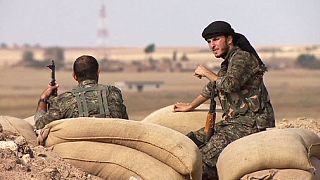 It was an attack last week that seemingly triggered Turkey's unprecedented double battle against Kurdish and Islamic State militants.
32 people were killed in a suicide bombing in the mainly Turkish Kurd town of Suruç, an attack Turkey deemed to be a threat to its very integrity.
The Islamic State was allegedly behind the bombing Kurdish protesters however have also blamed the Turkish government for colluding with IS – a charge it denies.
In response, Kurdish rebels from the PKK said they were responsible for killing at least two police officers.
Casting the operations as a war on terrorist groups "without distinction", Turkey launched air strikes against Islamic State positions in Syria for the first time.
Additionally, it bombed PKK camps in northern Iraq for the first time in three years. Hundreds of suspected members of both groups have also been rounded up in raids across Turkey.
Some insiders have accused Turkey's president of trying to seize an opportunity out of a crisis.
By adopting a more robust stance Recep Tayyip Erdogan could revive Turkey's international standing, bolster nationalist support at home and undermine the pro-Kurdish opposition.
Erdogan says his interest is simply national security: "Now there is a truth. In this country, in my opinion, it is impossible to continue the solution (peace) process with those threatening our national unity and brotherhood."
But his critics say his high risk strategy is aimed at halting the steady advance in northern Syria of Kurdish militias, who are proving to be a reliable partner to US-led air strikes.
The YPG, the PKK's armed affiliate, now controls
about half of Syria's 900 km border since defeating Islamic State fighters.
Ankara fears the group could use its foothold in the region to go further and create a Syrian Kurdistan right next to its own border.
Some observers believe Erdogan's actions are designed to hit back at the pro-Kurdish HDP. It secured enough votes to enter parliament for the first time back in June and is now the Turkey's fourth largest political force.
A collapse of the Kurdish vote and fears over security could, in the event of an early election, revive the vote and fortunes of Turkey's ruling AKP and with it Erdogan's ambition to change the constitution and invest his presidency with new powers.