Hero's welcome for French replica ship Hermione after US voyage
Comments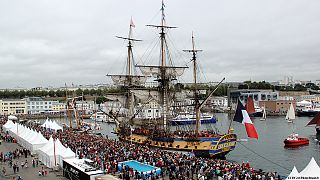 The replica ship, the Hermione, arrived back in France on Monday to a hero's welcome, after an historic trans-Atlantic voyage celebrating past and present US-French relations.
The vessel is a copy of a French navy frigate that took troops and supplies to America in 1780 for its war of independence against Britain.
Also on board back then was the French aristocrat, the Marquis de Lafayette, whose support for his friend George Washington was a critical component in beating the British.
To the American independence movement of the time, Lafayette – whose full name was Marie-Joseph Paul Yves Roch Gilbert de Motier de Lafayette – was 'our Marquis'.
On the replica's US adventure, stops were made at key locations in revolutionary history including Yorktown, Virginia, where Lafayette and his forces played a key role in a decisive battle against the British.
Hermione voyage would like to say "Merci" to all the reenactors who helped bring 18th C. America to life this summer! pic.twitter.com/99uvalUYyD

— Hermione 2015 (@hermionevoyage) 22 Juillet 2015
Having left French shores in April, the Hermione returned in triumph from its trans-Atlantic adventure on Monday, arriving in Brest in northwestern France amid a carnival atmosphere.