Hermione returns from historic voyage after making history of its own
Comments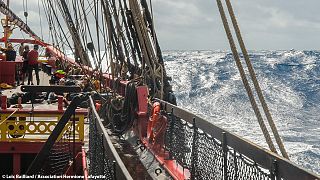 The return Atlantic crossing was a rough one, with the ocean baring its teeth to greet Hermione from Saint-Pierre et Miquelon, the last land before Brest, as a depression became a hurricane.
It would be the ultimate test for this French frigate from another age.
At its height, the mainly amateur crew had to climb seven-metre waves, with the reconstructed 18th century frigate hitting speeds of over 13 knots, more than 24 kilometres an hour for the 1,200 ton craft.
"The night of August 6 was hardly believable. For several hours we made over 12 knots, hitting over 13 several times. We had never seen the ship perform like that before," says Hermione's Captain, Yann Cariou.
Hermione left France on April 18, stopping in the Canary islands before crossing the Atlantic to America.
On an 18-stop tour, the replica ship reminded Americans of the support embodied by Lafayette to the nascent American revolution: French support was crucial to the birth of the USA.
One of the highlights was sailing beneath the friendly gaze of the Statue of Liberty, another French gift, in New York, where Hermione had a place of honour in a 4th of July regatta to commemorate Independence Day.
"The most moving moment of the voyage was when we sailed into Yorktown harbour, where the scale of the Americans' welcome was surprising. This continued in every city we visited. People were visibly touched by our visits, and very interested in what we had done – the fact that we'd rebuilt the ship to revive the memory of Lafayette and this period of close co-operation with the states to help them win their independence," said Yann Cariou.
The project took 17 years and 20 million euros, but judging from the reception and interest generated it looks like money well-spent.
It does not end here, either, as Hermione will become a floating museum, and may return to the sea for cadet training.