Ferguson rally to mark first anniversary of the shooting of black teenager Michael Brown
Comments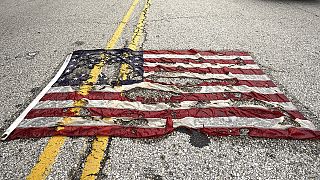 Hundreds of people in Ferguson, Missouri have marked the first anniversary of the death of an unarmed black teenager who was shot by police.
If it wasn't for you all, this would be swept under the carpet
The shooting of eighteen-year-old Michael Brown sparked months of protests and incidents of rioting and arson. It also resulted in the formation of the "Black Lives Matter" movement aimed at pressurising police in to better treatment of minorities.
The real heroes are the people of #Ferguson! Thank you for showing us how to fight for Black life. #MikeBrown means you have to fight back!

— Black Lives Matter (@Blklivesmatter) August 9, 2015
The rally was attended by the victim's father, Michael Brown Senior, who thanked all those who have supported him and the movement.
"I just wanted to give all my love to my family, my friends, my people, my new friends, my world, said Mr Brown. "You're all my world, you all made this happen. If it wasn't for you all, this would be swept under the carpet too."
Sunday's rally included a minute's silence.
A federal investigation found that the officer who shot Michael Brown had broken no laws.
But it also ruled that the the Ferguson police department had violated the rights of the city's black population for years.