Does Ahmadinejad plan a shock return to frontline politics?
Comments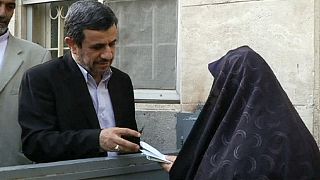 As Tehran's political maneuverings begin in earnest ahead of February's parliamentary elections.
A group of ex-cabinet ministers and allies of former president, Mahmoud Ahmadinejad, have formed a political faction called Yekta.
هدیه ای ارزشمند از تیم ملی #والیبال ایران A precious gift from #Iran's National #Volleyball Team #IRNpic.twitter.com/gObbSTQLOy

— Mahmoud Ahmadinejad (@DrAhmadinejad) June 27, 2014
This has led to suggestions that the former leader is due to make an unexpected return to frontline politics.
Hi! Hola! As-Salamu Alykum! pic.twitter.com/P71OQh9Jit

— Mahmoud Ahmadinejad (@DrAhmadinejad) April 21, 2014
However, Ahmadinejad has made no such announcement and his supporters claim Yekta is simply a group looking for discourse on all political issues concerning Iran.
Mehrdad Khadir, is a journalist at moderate Asr Iran news website:
"He has no backing among the middle class in the big cities and even in small towns. But the lower classes, who are easily attracted by simple slogans, might still like Ahmadinejad's style, even if they don't like him in person."
Ahmadinejad's second term in office ended in 2013 with Iran in dire economic straits.
#Persepolis is source of inspiration for Iranians. Hope we can achieve what this great nation & civilization deserves pic.twitter.com/zF7nvrTt0a

— Hassan Rouhani (@HassanRouhani) April 30, 2015
The electorate voted in droves for the moderate candidate Hassan Rouhani prompting many to write-off the former civil engineer.