Deadly storms and floods wreak havoc in Myanmar and India
Comments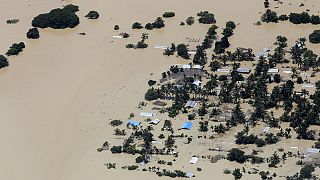 Tens of thousands of people have been forced from their homes in Myanmar, amid deadly monsoon rains.
Helicopters are plucking the stranded to safety, but some remain cut off in remote villages.
Storms and floods have killed more than 20 people, with water levels reportedly as high as four-and-a-half metres in some areas.
Vast swathes of farmland has been badly affected and paddy fields have been overwhelmed.
The country's president Thein Sein has been meeting some of the evacuees.
Meanwhile, flash floods are wreaking havoc in the Indian state of West Bengal, where dozens of people are said to have died.
Some roads now resemble rivers. A group of lorry drivers had to abandon their trucks to get out alive.
The floods have also forced schools and offices to close.