Day two round up from European Youth Olympic Festival
Comments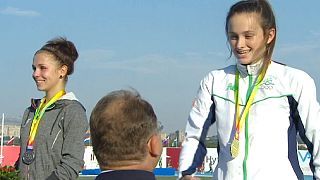 Ciara Neville from Ireland won the girls blue riband 100 metres event on day two of the European Youth Olympic Festival in Tbilisi, Georgia.
Poland's Klaudia Natalia adamek claimed silver while Ingvild Meinseth of Norway won bronze.
Henrik Roger Larsson clocked 10.72 seconds en route to winning gold in the boys 100 metres final.
Lauri Tuomilehto of Finland was one tenth of a second behind for silver as Pol Retamal Avila of Spain rounded off the medals podium.
Elena Pirrone celebrated victory in the girl's individual time trial.
The young Italian completed the 9.6 kilometre course along King David avenue in a winning time of 14 minutes and 12.43 seconds.
Clara Copponi of France won the silver she crossed over 3.981 seconds off the pace.
Lauren Dolan of Great Britain completed the podium with bronze 6.69 seconds back.
From the Tbilisi streets to the Tbilisi tatamis and Ion Mihailov of Moldova took the 55kg title beating Azerbaijan's Karamat Huseynov in the final.
Luca Carlino from Italy and home judoka Temur Nozadze both won bronze.
Hugo Gonzalez de Oliveira from Spain meanwhile struck gold in the boys 100m backstroke at the outdoor arena.
Silver went to Ireland's Conor Ferguson and bronze to K-Ryls Miatti of France.