Romania: former prison commandant given 20 years for crimes against humanity
Comments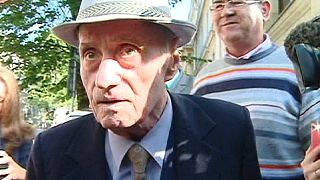 The former commandant of one of the harshest prisons of Romania's communist era has been sentenced to 20 years in prison for crimes against humanity, in the first "trial": http://www.euronews.com/2014/09/24/romania-former-communist-era-prison-boss-on-trial-for-torture/of its kind in the country.
89-year-old Alexandru Visinescu was found guilty of the torture and extermination of political detainees kept in appalling conditions at Ramnicu Sarat.
At least 14 people died in custody during Visinescu's tenure between 1956 and 1963. Starvation, beatings and freezing temperatures are said to have been commonplace.
Visinescu told the court he was simply obeying orders and following regulations.
He has ten days to lodge an appeal.