MH17 investigation one year on, conclusions pending
Comments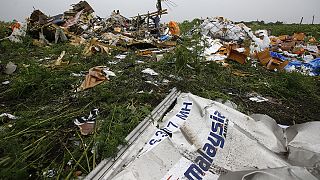 MH17 crashed where eastern Ukraine separatists backed by Moscow contended with Kyiv government troops for territorial control. this was near the Ukrainian-Russian border, in the Donbass region. Almost two thirds of the 298 dead were Dutch.
Twelve months later, the Netherlands' investigation is still under way. An internal report was tabled last September. Dutch legal authorities have revealed certain findings implicating pro-Russian separatists in the disaster but definitive conclusions are not expected until the end of this year.
This week, Malaysia, Australia, Belgium, the Netherlands and Ukraine officially asked the United Nations Security Council to create a tribunal to judge the people responsible for the crash. Gerard Van Bohemen is the ambassador for New Zealand, current holder of the rotating Council presidency.
"They are seeking to find a mechanism to deal with criminal accountability in relation to the downing of the aircraft. I expect that issue to be the subject of quite intensive consultations in the course of the coming month."
Russia vetoed such a tribunal, calling the initiative counter-productive.
Russia and Ukraine have each steadfastly said the other was responsible for the downing of the civilian airliner.
Kyiv accuses the rebels of shooting it down with a missile supplied by Russia. Moscow denies the allegation and lays the blame with the Ukrainian army.
On Wednesday, a case was brought in Chicago on behalf of the families of 18 of the victims against Igor Strelkov Girkin, former minister for defence of the self-proclaimed Donetsk People's Republic, saying he was behind the attack on MH17, and that he acted with Moscow's blessing.
Six of the victims' families in this case are British. The total being claimed in damages is 900 million dollars.