Historic nuclear deal with Iran said to be 'close'
Comments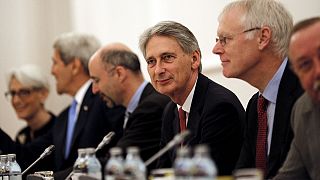 Iran and six world powers are said to be close to clinching a historic nuclear deal that will bring sanctions relief in exchange for curbs on Tehran's atomic programme.
After more than two weeks of talks in Vienna officials have said an agreement could be announced later today.
Speaking from the hotel where the talks are taking place Iran's Foreign Minister Mohammad Javad Zarif said " there would be no more extensions to the deadline for a deal but there was still some work to be done."
Western powers have long suspected Iran of aiming to build nuclear bombs and using its civilian atomic energy programme to cloak its intention – its and accusation strongly denied by Tehran.
The complex talks have had several sticking points including the speed of sanctions relief and access for inspecters to military sites in Iran.
However not everyone is hoping for an agreement – Israel is firmly opposed.
Reporting fro euronews from Vienna, Reihaneh Mazaheri, said; " Russia's foreign minister has returned to the nuclear talks in Vienna, as almost all are sure about the possibility of emerging with a positive result. Sergey Lavrov has said before, he would only return to the negotiations if an agreement was within reach."