Israel angry as Iran and West talk up nuclear deal
Comments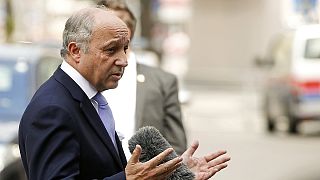 Iran and the Western powers in Vienna are making increasingly positive noises about a nuclear deal becoming a reality.
An Iranian diplomat said on Sunday that an agreement was "within reach" and just needed the "political will".
The French Foreign Minister Laurent Fabius added that he hoped this was the last stage of the Iran "marathon".
Ahead of a deadline fixed for Monday (July 13), the US Secretary of State was also optimistic.
"(It was a) very good meeting, very positive. I think we're getting to some real decisions so I will say – because we have a few tough things to do – I remain hopeful. Hopeful," John Kerry said.
A deal would keep the possibility of an Iranian nuclear weapon at bay in return for a lifting of Western sanctions on Tehran.
Negotiators have been edging towards this moment for 18 months. Some have hardly left their Viennese hotel in recent weeks.
No wonder the deal is being described as "too big to fail".
Leader in meeting with university students: The US is perfect instance of Arrogance. Prepare yourselves for more fight against Arrogance.

— Khamenei.ir (@khamenei_ir) 11 Juillet 2015
But once again Israel is sounding the alarm.
An agreement with Iran would not make the world safer, the prime minister said on Sunday, on the contrary the "peace of the world" would be put at risk.
For Benjamin Netanyahu, the anti-American, anti-Israeli rhetoric coming out of Tehran is as strong as ever.
"Iran's ruler Khamenei was quoted as saying (they) must be prepared to fight the US, regardless of whether an agreement will be reached. Iran's President Rouhani leads a hate march in the streets of Tehran, a rally where the flags of the US and Israel are burnt, and tens of thousands call for the death of the US, death to Israel," the Israeli prime minister said.
While more and more concessions are given to Iran in Vienna – in Tehran they burn flags and shout "Death to America". pic.twitter.com/4ffvtT3oto

— PM of Israel (@IsraeliPM) 10 Juillet 2015
Negotiators struck a deal on the wider principles in April; experts have since been concentrating on the practicalities.
A sticking point is thought to be Tehran's demand – with Moscow's backing – for an end to an embargo on conventional arms.
The West judges the issue too delicate due to Iran's implication in several conflicts, including Iraq and Syria.
Another point of disagreement is over the lifting of sanctions. Iran wants this to happen immediately, whereas world powers believe the process should be gradual – with the possibility of punitive measures being reimposed if the deal is violated.
#Lavrov: Lifting the arms embargo will help #Iran fight terrorism more effectively pic.twitter.com/faM8Wj0XF8

—

MFA

Russia (@mfa_russia) 9 Juillet 2015