Sceptical Eurogroup members demand guarantee that Greece will repay debt
Comments
By
Euronews
with
Efi Koutsokosta, Reuters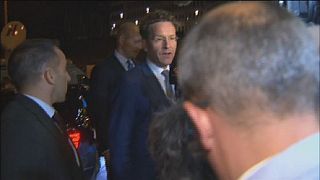 Sceptical euro zone finance ministers have called for Greece to go beyond the bailout measures it has accepted, if negotiations on Athens' latest bailout proposals are to begin and Greece is to remain in the euro.
Head of the Eurogroup Jeroen Dijsselbloem confirmed questions had been raised about Greece's reliability.
"We've had an in-depth discussion on the Greek proposals and the issue of credibility and trust was discussed. And also, of course, the financial issues involved," he told press after the meeting. "But we haven't completed our discussions so we will continue at 11am (local time). It's still very difficult, but work is still in progress. That's all I can say."
Finance ministers at a crisis session of the Eurogroup will meet again on Sunday (July 12) after failing to reach an agreement on cash-for-reforms proposals submitted by Athens.
Greece says it will accept more austerity in return for a third bailout from its troika of creditors.
EU officials had said they expected a deal to be reached by Sunday evening. However, the consensus among most of the Eurogroup was that Athens must prove it would honour any new commitments and repay its debts. Our correspondent Efi Koutsokosta enlarged on some of their concerns:
"The crucial Eurogroup meeting on Greece lasted nine hours. This time, Finland was on the frontline, with Finance Minister Alexander Stubb questioning a third bailout for Greece. According to Finnish media, the True Finns euro sceptic party making up part of the coalition government threatened to step down if the green light is given to the reform proposals."
Sunday's Eurogroup meeting will begin five hours before euro zone leaders are due to meet to discuss Greece's fate in the single currency.