Summer holidays: making the most of the big break
Comments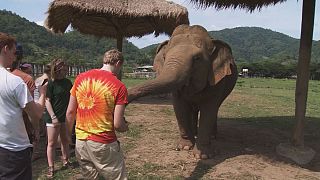 School's out for summer! The words every student longs to hear as the academic year drags on. It means weeks of down-time and relaxation; long days in which to recover from the rigours of study and restore the batteries for the coming new term.
But it can be much more than that, as we find out in this edition of Learning World. Maha Barada presents stories reflecting different perspectives on how young people can fill their summer holidays in meaningful and rewarding ways.
Thailand: holidays with elephants
Every year the Elephant Nature Park in northern Thailand hosts volunteers from around the world who come to work at the refuge for elephants recovering from a working life in the tourism and logging industries. For those who take up the challenge it's a rich and enlightening experience, even though it means shovelling elephant dung while many other students are partying elsewhere in a country better known among young adults as tourist destination. In this report we meet some of the volunteers who explain why they chose the elephant park over beach hotspots.
Germany: out of sight, out of mind
The long summer break during which school work is forgotten about is meant to be good for kids, giving them a chance to unwind and refresh their mental faculties for the academic year ahead. But not everyone accepts this notion. In this report we speak to Martin Korte who, like many other neurobioligists, believe summers off are one of the main reasons for under-achievement in education, particularly in foreign languages. In the interview he explains a viewpoint that students may not want to hear.
Norway: simply rocket science
For some the summer is an opportunity to reinforce what they have learned rather than escape from it. That is the case for participants at the Space Summer Camp in Norway's Andoya Island, just north of the Arctic Circle. The engineering and technology students get to launch a rocket, learning about the entire process under the supervision of experienced rocket scientists. Many hope their summer experience will be a launch pad for a career in the space industry.
Click on the video to see the stories in full.