UK budget creates higher wage, lower tax, lower welfare economy
Comments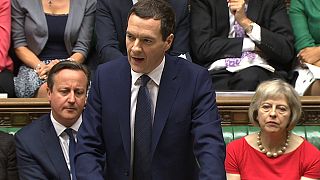 The British finance minister has used the first conservative party budget in nearly 20 years to reshape the world's fifth-largest economy.
George Osborne also announced a new so-called national living wage which will reach the equivalent of 12.50 euros an hour, up from the current 9 euros.
"This will be a budget for working people, a budget that sets out a plan for Britain for the next five years to keep moving us from a low-wage, high-tax, higher welfare economy, to the higher wage, lower welfare country, lower tax country we intend to create," said Osborne.
However he also said it will take four years, not three, to achieve his aim of turning Britain's budget deficit into a surplus.
Osborne also announced an overall cap on social welfare payments will be lowered sharply, and workers on higher salaries will have to pay more in rent for public housing.