Thousands of Greeks celebrate referendum result
Comments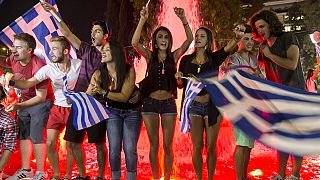 Thousands of joyful Greeks poured into the capital's central square as the scale of the rejection to a bailout deal which would have imposed more austerity measures became evident.
Although the country is now in uncharted waters, celebrations went on into the night.
One of those who have voted "No" claimed European leaders now know the Greek people are not afraid of anything. " We just want a democratic Europe where social justice will prevail. This is the vision Tsipras has for Greece and we all share," he said.
Another said he thought people had managed to drive away fear. "I think we should now go and make a deal. We know its gonna be a painful one. We still have the hope that corruption and a rotten political system will end, so a new start for the country is ahead."
NO: Greek vote shocks Europe, celebrations follow in Athens – http://t.co/Eoj7kxulVE via CNNMoney</a> <a href="https://twitter.com/hashtag/GreekReferendum?src=hash">#GreekReferendum</a> <a href="http://t.co/Df3RgXy6nQ">pic.twitter.com/Df3RgXy6nQ</a></p>&mdash; Black Press BC (BlackPressMedia) July 5, 2015
For millions of Greeks the outcome has been an angry message to creditors that Greece can no longer accept repeated rounds of cuts that have left one in four without a job. However the referendum divided the country and one of the tasks of the government will be to try and bring those who voted "Yes" on board.
Our reporter in Athens, Nikoletta Kritikou, said that those who have been celebrating hope the overwhelming victory of "No" will be a powerful tool for negotiations in the hands of Alexis Tsipras, so that an agreement with the main lenders will be reached over the next days.