Tunisia: State of emergency declared after Islamist terror attack on tourists
Comments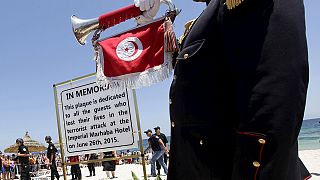 Just over a week after the sands of Sousse were turned red with the blood of tourists, a state of emergency has been declared in Tunisia, giving the army and police greater powers.
Despite tightened security, holidaymakers have headed home in droves, terrified of a repetition of the Islamist shooting rampage that left 38 foreigners dead.
In a televised address, President Beji Caid Essebsi announced what he called "exceptional measures" and said the militant attack had left Tunisia "in a state of war".
"I believe and I say it clearly, that if the events that happened in Sousse happen again, the country will collapse and it is my duty as president, to prevent this… God willing."
The final five bodies of the 30 British victims have been repatriated, arriving at an air force base in Oxfordshire in central England.
Amid criticism of Tunisian security forces, accused of responding too slowly to the beach attack – just months after March's deadly shooting at the Bardo Museum in Tunis – reports say the governor of Sousse and several officials have been dismissed.