Italy: regional leaders refuse to take more migrants
Comments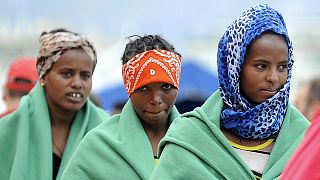 Nearly 500 more migrants arrived in Sicily on Thursday after being picked up by a Swedish boat in the Mediterannean.
One of them died on the journey, although the cause of death is yet to be established.
Italian officials say more than 3,700 people have been rescued at sea since Monday alone.
The new arrivals landed on Italian soil as Prime Minister Matteo Renzi met with regional leaders to discuss how to spread the migrant burden.
He faced tough opposition during talks in Rome as northern regional heads refused to take more of the migrants, who are typically brought to shore in the south.
The wealthier north says it has been taking in more of the migrants for several years and its processing centres are full.
More newcomers tend to head north to find work.
One regional head described Thursday's meeting as "useless", saying the "chaos would continue".
While Luca Zaia, governor of Veneto called for local officials to ignore Rome's phone calls and instead "represent the interests of the people".
One Italian Mayor warned that Europe was witnessing a "genocide" and suggested that migrants to be allowed to enter the EU freely.