Mali hostages Gustafsson and McGowan seen in new jihadist video
Comments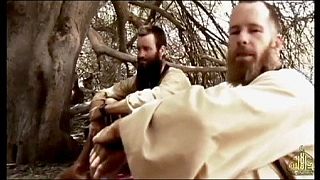 Two men captured by Islamist militants in Mali – said to be the last Westerners held hostage in the country – have been seen in a rare video posted on the internet.
The film has not been independently verified but is said to resemble others made by al Qaeda in north Africa (AQMI).
Johan Gustafsson from Sweden, and South African Malcolm McGowan – who is also said to have a British passport – were seized more than three and a half years ago.
They are seen appealing to their governments to help secure their release.
"I plead to the Swedish government that they are giving their help and information and support to my family and that they are doing what they can," Gustaffson says.
"I have a message for my government: I want to thank you for everything that you have been doing and I continue to ask for help that you assist in my release," adds McGowan.
The location of the video and date it was filmed are not known.
The two men were captured in Timbuktu in November 2011. A German national with them was killed in the raid.
A Dutchman, Sjaak Rijke, who was also taken, was freed in April this year in a French special forces operation in northeastern Mali, apparently by chance.
France intervened in the West African country in 2013 to block an Islamist advance, chasing the jihadists out of northern towns – although they have since regrouped in remote areas and have recently carried out attacks in the south.