France outclass Estonia at European fencing championships
Comments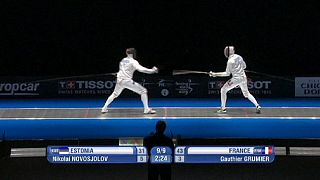 France produced a stunning performance to down Estonia in the final of the of the men's team event at the European fencing championships in Montreux, Switzerland on Wednesday.
Les Bleus overcame a nervous start to beat Ukraine in the semis and carried their momentum into the showpiece match with World number One Gauthier Grummier outclassing Nikolai Novosjolov to hand his side an emphatic 45-32 win.
In the women's sabre event, the French team came close to striking gold again but it wasn't to be as Russia proved too strong in the final, en route to their third European title.
In the absence of the injured Charlotte Lembach, Saoussen Boudiaf's team-mates were unable to trouble their rivals and eventually suffered a 45-36 loss while Ukraine thumped Italy 45-30 to complete the podium.