Fighting ISIL in Syria and Iraq
Comments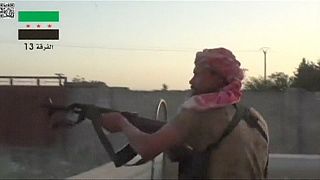 The US-led coalition has reportedly staged 17 air strikes on ISIL targets across Syria and Iraq, in the latest of daily assaults.
The Command Joint Task Force said four of the attacks took place near the city of Al Hasakah, in north eastern Syria. They are believed to be in response to recent assaults by the jihadist group on explosive-filled trucks at army checkpoints in the area.
ISIL has launched an offensive against the government-held section of Hasaka, piling further pressure on President Bashar al-Assad.
In Iraq, the coalition is said to have targeted a number of tactical positions which are under the militants' control. Nine recent strikes across at least six cities have reportedly hit vehicles, buildings and heavy machine guns.
The coalition says it has killed 10,000 ISIL extremists across Iraq and Syria since beginning the aerial campaign.