Ukraine conflict pushed Red Cross to its limit
Comments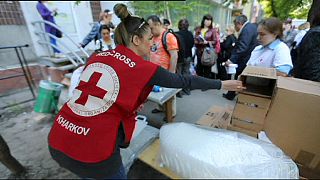 Since the beginning of the unrest in the east of the country, the Ukrainian Red Cross Society has been distributing humanitarian aid to vulnerable people. More than 2.2 million have fled their homes to escape the fighting.
Many have ended up in Kharkiv, a region in the north-east of Ukraine bordering separatist-controlled Donetsk and Luhansk, and Russia.
Food items and cleaning materials are taken to a distribution centre in the city.
Many people have sought refuge in other countries, mainly Russia and Belarus, while the majority of the two million people who fled the fighting have been internally displaced within Ukraine.
The worsening situation has stretched the resources of the Red Cross to their limits.
Since April last year the organisation has helped more than 500,000 internally displaced people.