US report claims FBI opens corruption inquiry into FIFA president Sepp Blatter
Comments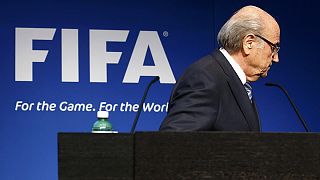 FIFA chief Sepp Blatter has said that he is to step down just four days after being re-elected for a fifth term at the helm of football's world governing body, which is embroiled in a corruption scandal.
ABC news reports that the FBI and US prosecutors are investigating the outgoing president.
The 79-year-old made the announcement during a hastily convened press conference in Zurich. Blatter said although he had decided to stand again because he was convinced it was the best option for football, his mandate does not seem to be supported by everyone in the world.
Blatter added he would call an extraordinary congress, to be held as soon as possible, for a new president to be elected to succeed him.
Switzerland's attorney general said that Blatter is not currently under investigation by its office.
His resignation comes just six days after the FBI raided a Zurich hotel and arrested several FIFA officials on bribery charges.