'Courageous' or 'good news?' World football reacts to Blatter's departure
Comments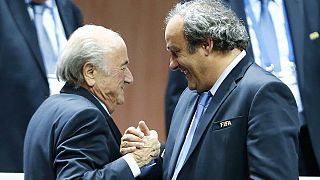 As Sepp Blatter permanently benches himself from the beautiful game, reactions to his sudden departure from FIFA have been flooding in.
Michel Platini
UEFA President Michel Platini – long touted as a potential successor to Blatter – called his decision "difficult," "brave" and "right."
The FA and Luis Figo
The English Football Association labelled the exit "good news for world football and FIFA." It was a sentiment echoed by Portugal's Luis Figo, who briefly stood in last week's FIFA presidential election, before withdrawing from the race.
In messages on social media, the former player said he hoped football's world governing body would now "enter a new era."
Change is finally coming. Let's find a solution to start a new era of transparency and democracy in FIFA. http://t.co/XXYt1NfooH

— Luís Figo (@LuisFigo) June 2, 2015
Russia
In Russia, the host nation for the 2018 World Cup, Sports Minister Vitaly Mutko described the decision as "courageous," but "taken under pressure," RIA news agency reports.
Russian President Vladimir Putin's press secretary has said there will be no official reaction from the Kremlin until all the facts are known.
Gary Lineker
Gary Lineker made a tongue-in-cheek comment about the news, in line with earlier criticism the former England international has made about the outgoing president.
Blatter has resigned. Can't quite believe it. FIFA always appeared to be such a fine upstanding organisation.

— Gary Lineker (@GaryLineker) June 2, 2015
Piers Morgan
Known for being opinionated and having, on occasion, controversial views, presenter Piers Morgan gave his opinion via social media.
Only one reason Blatter's quit - the FBI have got him in their sights. Watch this space.

— Piers Morgan (@piersmorgan) June 2, 2015
And last, but not least…
Following the initial arrests of FIFA officials in Zurich, John Oliver, comedian and host of Last Week Tonight compared those detained to the hotel sheets they appeared to have been hidden behind:
"That is perfect," Oliver says, "Because hotel sheets are very much like FIFA officials: they really should be clean, but they are actually unspeakably filthy and deep down, everybody knows that."
Watch his full reaction to the arrests, here…