Football 'corrupted': Five main points in FIFA and World Cup scandals
Comments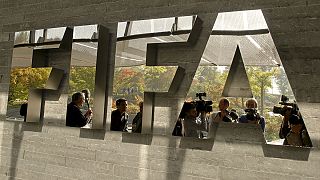 Bribes
US justice authorities are pursuing their case on four fronts against FIFA, the powerful international governing body of association football (soccer). They are investigating suspicions of bribes being paid for TV rights, for awarding the World Cup to South Africa, bribes to elect the FIFA president and sportswear sponsorship bribes.
Television broadcast rights
Officials from FIFA and CONCACAF (the FIFA-affiliated Confederation of North, Central American and Caribbean Association Football) are accused of taking bribes of more than $150 million in return for giving television rights to broadcast matches from tournaments including the World Cup and the regional Copa America.
World Cup attribution
The US Department of Justice says it has evidence of corruption in the awarding of the 2010 World Cup to South Africa. According to the indictment, members of the bid team arranged to give a company run by Jack Warner, a senior FIFA official, $10 million in return for his support.
Electing FIFA president
The FIFA Presidential election in 2011 was also marked by bribery and corruption, the US prosecutors claim. A candidate in the election arranged for envelopes containing $40,000 in cash to be handed to officials representing organisations eligible to vote in the election.
Sponsorship
And finally, an agreement by a "major US sportswear company" to sponsor the Brazilian national team was also subject to corruption. Nike have sponsored the team since 1996.
Arrests
Charges against 14 people arrested include racketeering, money laundering and wire fraud, which can encompass a wide range of bribery and corruption offences.
The persons named include senior football administrators:
Jeffrey Webb, president of CONCACAF and Cayman Islands FA, FIFA vice- president
Eduardo Li, Costa Rican FIFA executive committee member
Eugenio Figueredo, Uruguayan FA executive and a former association chairman
Jack Warner, Trinidadian former head of CONCACAF and vice-president of FIFA
Julio Rocha, Nicaraguan Football Federation president
Costas Takkas, Caymanian attaché to CONCACAF president
Rafael Esquivel, Venezuelan Football Federation president
José Maria Marin, Brazilian Football Confederation former president
Nicolás Leoz, Paraguayan South American Football Confederation former president.
Charges were also brought against sports-marketing executives Alejandro Burzaco, Aaron Davidson, Hugo Jinkis and Mariano Jinkis. Authorities charged José Margulies as an intermediary who facilitated illegal payments.
Chuck Blazer, a former member of FIFA's powerful executive committee, secretly pleaded guilty in 2013 to 10 charges, including fraud.
Daryan and Daryll Warner, sons of Jack Warner, have pleaded guilty to wire fraud and other charges.
José Hawilla, who owned an influential Brazilian sports-marketing group, has also admitted taking part in fraud which is under investigation.
Officials have been refusing to comment on whether they are investigating FIFA President Sepp Blatter.
Swiss police arrested seven people in a dawn raid at a five-star hotel in Zurich on Wednesday, detaining them for US extradition proceedings.
Reactions
Walter de Gregorio, FIFA spokesman
"It is a hard time for us. But this is good for FIFA. It confirms that we are on the right track."
Sepp Blatter, FIFA President
"Let me be clear: such misconduct has no place in football and we will ensure that those who engage in it are put out of the game. We will work vigorously within FIFA in order to root out any misconduct, to regain your trust and ensure that football worldwide is free from wrongdoing."
UEFA, Union of European Football Associations
"In the meantime, the members of the UEFA Executive Committee are convinced that there is a strong need for a change to the leadership of FIFA, and strongly believe that the FIFA Congress should be postponed, with new FIFA presidential elections to be organised within the next six months."
Coca Cola
"This lengthy controversy has tarnished the mission and ideals of the FIFA World Cup, and we have repeatedly expressed our concerns about these serious allegations."
VISA
"Our disappointment and concern with FIFA in light of today's developments is profound. As a sponsor, we expect FIFA to take swift and immediate steps to address these issues within its organisation. It is important that FIFA makes changes now, so that the focus remain on these going forward. Should FIFA fail to do so, we have informed them that we will reassess our sponsorship."
Diego Maradona, joint FIFA Player of the 20th Century (with Pelé)
"Thankfully, today the truth is out, and I am enjoying it. [FIFA,] they hate soccer. They hate transparency. Enough shady dealings. Enough lying to the people. We're going to remove all the old-timers. We'll have to see if Blatter wins this time. With [FIFA presidential candidate] Ali [Prince Ali bin al-Hussein], the good will remain and the bad I will personally kick you know where."
Gary Lineker, English former footballer and current broadcaster
"There can't be a more corrupt, deplorable organisation on earth than FIFA. The house of cards is falling. Time for change!"
Luis Figo, Portuguese retired footballer and former FIFA presidential candidate
"People who love football such as I do will remember 26th [27th] of May as one of the worst days of the history of FIFA. I reiterate what I said last week: what is happening on Friday in Zurich is not an election. [On this,] many more people agree with me now. To give consent to this plebiscite is a mistake."
Russian Foreign Ministry statement
"Without going into the details of the accusations, this is clearly another case of illegal extra-territorial use of US law. We hope that this will not in any way be used to cast a shadow on the international football organisation as a whole, and its decisions. Once again, we are calling on Washington to stop attempts to make justice [sic] far beyond its borders using its legal norms, and to follow the generally accepted international legal procedures."
Laurent Fabius, current French Foreign Minister and former prime minister
"Accusations in this area have been circulating for many years. It stands to reason that time should be taken to examine what is based in fact and what is not. Following that, the authorities will draw their conclusions. Otherwise, it's going to look like a disaster. That's my personal opinion, but it seems like common sense to me."
Philip Hammond, UK Secretary of State for Foreign Affairs
"There is something deeply wrong at the heart of FIFA, and international football needs to reform, needs to get its act together."
Greg Dyke, FA chairman (Football Association, governing body of football in England)
"The truth is you cannot rebuild trust in FIFA while Sepp Blatter is there. It should be the end for Sepp Blatter. A lot of us hope it will be the end of Sepp Blatter. What has to be said to Blatter over the next two days is 'it's time for you to go – we don't care if you've got the votes, you have got to go, as there is no credibility in this organisation while you're still there.'"
Wolfgang Niersbach, DFB president (German Football Association)
"Today's disclosures exceed every measure of the imagination. In the wake of the developments, it would be a fatal signal to go ahead with the FIFA Congress agenda as planned. You can't just go back to business as usual. Should the accusation turn out to be true, it would shake FIFA and world football to the very foundations. Sepp Blatter — even though apparently not personally affected — should do football a big service. It can't go on like this."
Additional corruption, World Cup
Separate from the US investigation, Swiss prosecutors have launched proceedings against unidentified people on suspicion of criminal mismanagement and money laundering related to the awarding of rights to host the 2018 World Cup in Russia and the 2022 event in Qatar.