More than 4,000 migrants rescued in 24 hours in Mediterranean
Comments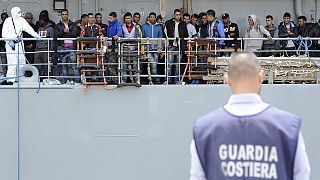 In the space of just 24 hours more than 4,200 migrants have been rescued from boats in the Mediterranean. It marks a new high in the numbers desperate to reach European shores this year.
The Italian coastguard said distress calls were released from 22 boats off the coast of Libya and Italy, and 17 bodies were recovered. Ships from Italy, Germany, Ireland, Belgium and Britain took part in the rescue operation.
With the arrival of spring, calm seas favour departures however, an estimated 1,800 people are believed to have lost their lives since the beginning of this year.
Situated just five kilometres from the Turkish coast, the Greek island of Kos has seen more than 1,000 people wash up on its shores in just one week, many of them fleeing conflicts and poverty in the Middle East and Africa. Kos, with a population of just 30,000 is struggling to cope with the influx.
Though Greece and Italy are taking the brunt of arrivals, an EU plan to disperse 40,000 migrants to other European countries has met with resistance. The UK refused to participate while others called for a voluntary scheme.