Battle for Ramadi: Iraq formally announces military offensive against ISIL
Comments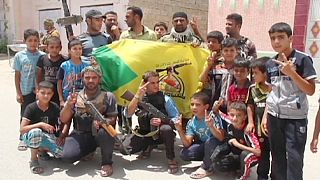 Iraq's formally announced the start of a military offensive to liberate Anbar province from ISIL militants.
The ultimate aim is to take back the regional capital from the self-proclaimed Islamic State.
Iraq's defence minister said last week that the government was determined to push out the militants.
But Baghdad is facing criticism. In the wake of ISIL's capture of Ramadi, a US official has questioned the will of Iraqi troops to fight.
ISIL has now poured more fighters into the city, as security forces and supporting Shi'ite paramilitaries set their sights on regaining control.
Iraqi troops have already taken back ground east of the city. They have also retaken a rural area south of Ramadi.
Iraq's air force says air strikes have been targeting headquarters and ISIL vehicles.
Iraq's vice president recently tried to explain the fall of Ramadi, saying government troops didn't have the weapons they needed.
ISIL's seizure of the Anbar capital – along with Palmyra in Syria – were the group's biggest successes since a US-led coalition launched an air war against the militants.