Exodus from Ramadi to Baghdad continues after bridge re-opened
Comments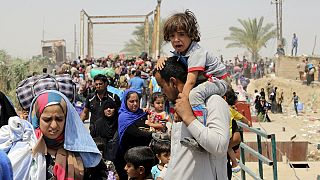 Thousands of people forced to flee Ramadi and the surrounding area because of the ISIL takeover have been continuing to cross the Euphrates River via the Bzebiz bridge and head for Baghdad.
It follows an earlier decision by the government to waive restrictions and grant people entry on condition that each family has a sponsor.
Initially they had been denied entry to the Iraqi capital for fear that militants might be hidden among the crowds.
''We have been suffering a lot. All our properties and animals were destroyed. We don't know what's happened to our families," said one man.
Tens of thousands have fled Ramadi since ISIL stormed the capital of Anbar province.
Some people were stranded out in the open for days until they were allowed to cross the bridge.
Officials said five had died from exhaustion.