Every Friday journalists from euronews' various language teams choose a selection of stories from Europe and beyond which did not reach the
Every Friday journalists from euronews' various language teams choose a selection of stories from Europe and beyond which did not reach the international headlines .
Turkey: Erdoğan's chief advisor has 'prepared guns,' ready to die for boss
Turkish President Recep Tayyip Erdoğan's chief advisor Yiğit Bulut has declared his readiness to defend his boss with 'two pistols and hundreds of bullets,' months after he made headlines claiming that telekinesis-wielding international powers were trying to assassinate Erdoğan.
'Nobody can touch the president of this country before I am killed,' Bulut said on a live show broadcast by Turkey's public broadcaster TRT late on May 19.
Yiğit Bulut: İki silahım yüzlerce mermim var, ben ölmeden Erdoğan'a kimse dokunamaz! [Video] http://t.co/EfFWUJn8evpic.twitter.com/nKSoEeza5M

— T24 (@t24comtr) 20 Mai 2015
Greece: Lost in translation?
A picture of two road signs in Greece went viral on social media. Why?
On the first road sign, out of Kavala city in northern Greece, you can see that the distance to the airport is 1,5 km, to Kavala city 40 km and to Xanthi 29 km. The road sign is in Greek.
So far so good.
A few meters away there is a second road sign this time in English.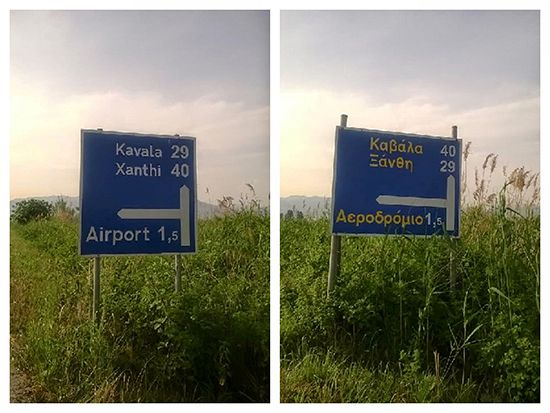 For the airport the distance is 1,5 km, for Kavala city 29km and for Xanthi 40km! Which sign is
correct? It seems drivers may need a good translator!
Hungary: Adopt a hospital room!
The Hungarian Markhot Ferenc Hospital at Eger was built 32 years ago. Today the building's general condition is very poor. There is a European Union-supported project to develop hospital equipment and change the insulation and windows, but the budget doesn't cover the renovation of hospital rooms, improving hygiene, or new furniture.
So the hospital has announced a novel 'Adopt a hospital room!" scheme. The public and Hungarian companies are being invited to participate in the modernization and renovation.
A first room has already been adopted by a construction company which changed the bedding, lamps, taps and toilets, and they also repainted the ward. Other individuals have already signed up to adopt the other rooms.
Similar schemes have bee tried elsewhere in Hungary this year. In this video, the children's ward of an other hospital is renewed in the same way.
Source: http://www.heol.hu/heves/kozelet/nincs-penz-a-felujitasra-orokbe-adjak-a-kortermeket-611887
Pompeii: restored casts show harrowing agony of catastrophic death
The exhibition "Pompeii and Europe: 1748-1943" will show the harrowing human agony wrought by the catastrophic eruption of Mount Vesuvius that buried the Roman city in 79 a.d. starting on May 26.
Eighty-six casts of victims, all in the final phases of restoration, will be shown in the joint exhibition at the Pompeii archeological site and Naples' National Archeological Museum.
Teeth protrude from lips stretched from pain. Smoldering, encrusted skin, protruding skulls and bones, exposed jaws were all caught in the moment of death, when a glowing, 300 degrees centigrade cloud seared body surfaces in a single stroke, leaving their insides soft, and burying them under ash and stones. "These are not statues of plaster or bronze, but real people who should be treated with respect," said Massimo Osanna, the archaeological superintendent of Pompeii, Herculaneum and Stabiae.
Restorations also include animals, but the remains of a pig and a dog will not be part of the exhibit. Osanna explained that these remains were restored and studied for scientific and archeological purposes.
TWEET:
Pompei, lo straordinario restauro di 86 calchi Morti all'istante, per nube ardente di 300° http://t.co/DY1LcoHwi5pic.twitter.com/fpmQ2g8b6Y

— Luigi De Gennaro (@luigidegennar) May 20, 2015
Saudi Arabia makes job adverts for executioners as it's a busy year…
It may not be for everyone, but Saudi Arabia is advertising some interesting job vacancies at the moment. The kingdom is looking to hire eight executioners who will need to prove their skill with a sword as beheading is the Saudi's method of choice for capital punishment.
It's currently a growth market, deplored by human rights organisations who are calling for the practise to be banned. Only Iran, Iraq and the USA executes more people than Saudi Arabia every year.
Iran: Championship celebration changed to pain
When the final whistle blew at the Tractor Sazi and Naft match in Tabriz, thousands of jubilant Tractor Sazi fans ran on to the pitch to celebrate what they thought was their team's first ever Iranian Premier League title.
Some of the joyous fans kissed the head coach of Tractor Sazi Toni Oliveira, but moments later the celebrations turned sour when it became clear that the result of their rivals Sepahan FC's match left Tractor Sazi in second place.
France: Cannes bans – First selfies, then flats
The film festival recently banned red carpet selfies, but the organizers went even further when they reportedly banned flat shoes for women, regardless of their age or medical condition. The story went viral after reports women were turned away from a red carpet screening for wearing flat shoes instead of heels. Among them was the film producer Valeria Richter, who has part of her left foot amputated. She says she was stopped, but eventually allowed in.
Ms Richter told the BBC she "couldn't keep her balance" in heels, after having her big toe and part of her left foot amputated. She was stopped four times on her way into the premiere of Gus Van Sant's 'Sea of Trees' on Saturday.
"They pointed their fingers at my shoe and then were waving their fingers at me," she said. "It was quite obvious that it was my shoes that were the issue. Obviously, I could wave my foot at them," she smiled, "and that would make the situation a little awkward for them, because I had a visible explanation for not wearing heels".
twitter hashtag #cannesheels, source: http://www.bbc.com/news/entertainment-arts-32809200
German: Fuck up nights in Berlin
Die Tageszeitung reports about "Fuck up nights in Berlin" where former singer and owner of a music shop Patrick Wagner crashed his career, his business and his marriage.
People are invited to tell each other about their failings, breakdowns and defeats, how they crashed their businesses and their lives – in front of the public. It's a kind of self-therapy.
This has previously been held in Düsseldorf, now it's also in Berlin and they have their own website – www.FuckUps.de
Ireland: Farmer replaces 'overenthusiastic' bull with broken penis
A farmer in Ireland was forced to replace his prize bull after it sustained an injury to its penis at the beginning of the breeding season. Owner Tommy Moyles said that it was probably due to the bull being 'over enthusiastic'. Moyles has been farming for 10 years, and this was the first time he has seen such an incident.
Romania: Football team forced out
A Romanian football team had to move a home fixture to another pitch 40km away after their town's mayor decided to use their stadium for his daughter's wedding.
Gilortul Targu Carbunesti, in the fourth tier of the Romanian league, had to make the switch to the town of Stoina after a marquee and red carpet was put on their pitch on match day. Some wags have suggested fans should crash the event to chant "They don't know what they're doing" from the terraces.
France: friendly seal terrorizes surfers
An overfriendly seal is causing trouble at beaches on the west coast in Gironde. You, as the animal has been named, enjoys the company of humans and even tries to clamber aboard surfboards. The problem is he weighs around 100 kilos and his friendliness has even led him to bite some of his new companions.The authorities have advised
beachgoers to keep their distance
Italy: work for immigrants
In Pesaro on the Adriatic coast, local institutions have started a program to let immigrants work as volunteers in public spaces. People waiting for their asylum protocol to be approved can attend training and, on a voluntary basis, work in public gardens or help out employees in public administrations.
The mesure is controversial and the mayor is being accused of exploitation. But the program is getting good results.
Sources:
http://www.farmersjournal.ie/farmer-writes-a-case-of-a-bull-with-a-broken-penis-180801/
http://www.hurriyetdailynews.com/erdogans-chief-advisor-has-prepared-guns-ready-to-die-for-boss.aspx?PageID=238&

NID

=82688&NewsCatID=338
http://www.taz.de/FuckUp-Nights-in-Berlin/!160263/
http://www.punemirror.in/sports/others/Title-fight/articleshow/47311663.cms
http://www.alquds.uk/?p=394098
http://www.ansa.it/sito/videogallery/italia/2015/05/20/pompei-in-cura-i-calchi-vittime-eruzione-vesuvio_2b3a6081-0e10-4393-9366-c451254b9c52.html
http://www.francebleu.fr/infos/surf/le-phoque-you-seme-la-panique-au-milieu-des-surfeurs-de-carcans-2343691
http://www.thrakitoday.com/2015/05/pinakides-gia-xanthi-trelathikan-deixnoyn-lathos.html
http://stirileprotv.ro/stiri/actualitate/primarul-orasului-targu-carbunesti-a-ocupat-stadionul-cu-nunta-fiicei-sale-si-a-trimis-echipa-sa-joace-la-40-de-km-distanta.html
"http://www.linkiesta.it/richiedenti-asilo-lavoro": http://www.linkiesta.it/richiedenti-asilo-lavoro