Funeral held for US Naval officer killed in Philadelphia train tragedy
Comments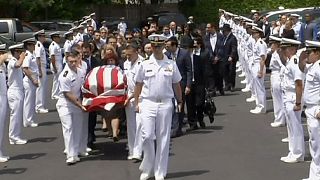 The first funeral has been held for one of those killed in the train that derailed in the US state of Philadelphia on Tuesday.
Twenty-year-old Justin Zemser, a midshipman in the US Naval Academy, was laid to rest on New York's Long Island.
Classmates from the acadamy joined his family and students from his high school.
FUNERALTODAY: Friday's service for U.S. Naval Academy Midshipman Justin Zemser Long Island. http://t.co/DlCFzM8GpKpic.twitter.com/J0HuqKbMZJ

— Eyewitness News (@ABC7NY) May 15, 2015
Meanwhile, five patients remained in intensive care in a Philadelphia hospital.
Investigators are looking into reports that Brandon Bostian, who was driving the train at the time of the derailment, said he had reported a cracked windscreen.
An assistant conductor said the driver believed it had been cracked by an object either fired from a gun or thrown at the train and he had made an emergency stop as a result.
The derailment of the Washington-to-New York train killed eight people and injured more than 200.
Midshipman Justin Zemser, killed in #Amtrak188 derailment, was laid to rest Friday http://t.co/q1ICY3QJB6pic.twitter.com/XeTLJpchUK

— Philly.com (@phillydotcom) May 15, 2015