Pakistan's PM condemns deadly bus attack in Karachi
Comments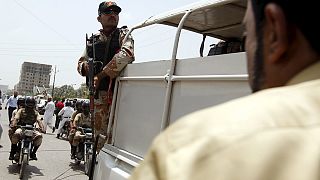 Pakistan's government is vowing to track down those involved in a deadly bus attack in Karachi, which has left at least 43 people dead.
Militant group Jundullah, which has pledged allegiance to ISIL and has links with the Pakistani Taliban, says it was behind the killings.
Gunmen boarded the vehicle and opened fire on terrified passengers.
Police say all those on the bus were Ismailis, a minority Shi'ite Muslim sect. Pakistan is mostly Sunni.
The vehicle was in a relatively deserted area, on the outskirts of Karachi, when the gunmen launched their attack.
The passengers were reportedly on their way to a community centre.
Pakistan's Prime Minister Nawaz Sharif has condemned the bloodshed.
He said the attack was deplorable, an attempt to spread chaos in the country and provoke fighting.
Sharif added that communities, which have never caused controversy, were being drawn in.
Posts on Ismaili social media pages are encouraging people not to do anything that might put them in further danger.
Many religious minorities claim the government is not doing enough to protect them.