UK election: exit poll predicts almost clean sweep for Scottish nationalists
Comments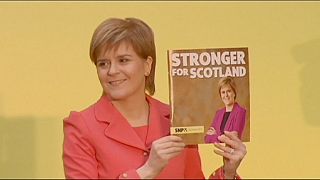 Sweeping success is predicted for Scottish nationalists, as part of Britain's elections.
The Scottish National Party is set to take 58 out of 59 parliamentary seats north of the border, according to an exit poll.
The surge in popularity for the SNP comes just eight months after an independence vote – in which Scots narrowly rejected its call to break away from the UK.
But, in a tweet, SNP leader Nicola Sturgeon is urging "huge" caution, saying 58 seats is unlikely.
I'd treat the exit poll with HUGE caution. I'm hoping for a good night but I think 58 seats is unlikely! #GE15

— Nicola Sturgeon (@NicolaSturgeon) May 7, 2015
But even if the SNP does take 58 seats, the other party forecasts – if they also ring true – would kill the prospect of a leftist alliance with Labour.
But it seems Sturgeon is marking her mark.
"It only just serves to underline just how vapid and weak most of the other politicians are, because not only can people barely name them, but they're barely known for very much at all;" said Justin Urquhart Stewart, from Seven Investment Management.
"Whether you agree or disagree with Ms Sturgeon, she has created an amazing change in politics, not just in Scotland, but throughout the entire United Kingdom."
Sweeping success for the SNP would dramatically highlight the political divide between England and Scotland and could spark a push for a new referendum on independence.