#GE2015: exit poll predicts Tories will take shock lead, but not majority
Comments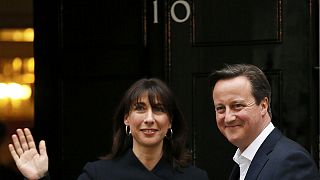 Shock predictions were made as voting came to a close in the UK general election.
The outcome of an exit poll forecasts the centre-right Conservatives will once again be victorious.
Some 20,000 voters were questioned in the survey, which was carried out by Britain's three main broadcasters.
BREAKING: UK exit polls suggest Conservatives 10 seats short of majority. Follow live http://t.co/7veHy9SMKv#GE2015pic.twitter.com/0w6oJbFFGm

— euronews (@euronews) May 7, 2015
However, while the Tories (as the party is known) are expected to win the most seats in parliament, they may not win the majority of 326 needed to govern alone.
Opinion polls in the run-up to the election put them neck and neck with Ed Miliband's opposition Labour Party.
Despite the predictions, his centre-left party had a promising start to the election night. It successfully defended three constituency seats in and around Sunderland, in the north east of England.
But this may not be enough, with Labour forecast to be all but wiped out of its former stronghold of Scotland.
Reactions:
A representative of David Cameron has reportedly said the incumbent prime minister was "pleased" with the predictions.
However, Scottish National Party (SNP) leader Nicola Sturgeon urged caution, Labour's deputy leader Harriet Harman told the British media she was "very sceptical" about the exit poll.
If it proves accurate, it would be disastrous for Nick Clegg's Liberal Democrats. Predicted to only win 10 seats, it held 56 before polling started.
Just hours into vote counting, the party had already lost four of its deposits, for failing to gain 5 percent or more of the votes per constituency counted.
Conservatives hold Putney in W. London. Lib Dems crash again -10% but at least save their deposit #GE2015http://t.co/bDrKttQIZR

— euronews (@euronews) May 7, 2015
However, President of the Lib Dems, Baroness Brinton, claimed opinion polls had been inaccurate where her party was concerned.
"I would be astonished if we only had ten seats at the end of the night," she told the British press.