Seven die in Pakistan helicopter crash
Comments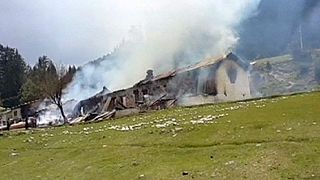 A military helicopter carrying a diplomatic delegation has crashed in northern Pakistan killing seven people, including the ambassadors of Norway and the Philippines.
The wives of ambassadors from Indonesia and Malaysia were also among those who died in the crash along with two pilots and a crew member. The Dutch and Polish ambassadors were among ten injured.
Norway mourned the loss of ambassador Leif Larsen.
News Ambassador Leif H Larsen has died in Pakistan received with great sorrow. Thoughts are with close family and friends - FM @borgebrende

— Norway MFA (@NorwayMFA) May 8, 2015
Deeply saddened by the death of our good friend and colleague ambassador Leif H. Larsen at the #HelicopterCrash in #Pakistan. We miss him.

— NorwayNATO (@NorwayNATO) May 8, 2015
The Pakistani air force said a technical glitch caused the accident and that a fire which erupted after the crash led to the high number of casualties.
The helicopter had been en route to the opening of a tourism project in the Gilgit region when it crashed into a school during an emergency landing.
Though the Pakistani Taliban claimed they shot down the aircraft, eyewitnesses reported nothing to indicate any shots were fired.