More Mediterranean deaths as desperate migrants head to Europe
Comments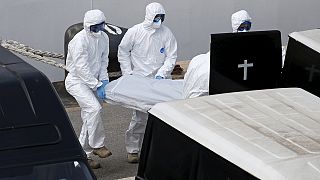 The first bodies have been brought ashore of the hundreds feared killed on Sunday in the deadliest shipwreck involving migrants trying to reach Europe.
In the Maltese capital Valletta, coast-guard officers unloaded 24 corpses found so far.
Wearing white protective suits, they carried the victims in body-bags off the Italian ship Gregoretti and deposited them in hearses.
At the same time, the port of Catania in Sicily was preparing to receive the migrants who escaped with their lives.
Just 28 people were rescued. Some 700, perhaps 900, others seeking a better life in Europe are thought to have drowned when their boat capsized off Libya.
"Over the past week, 1,000 people have died in the Mediterranean," said aid worker Sarah Tyler of Save the Children.
"This is almost as many that have died in the Titanic and 31 times more than perished in the Costa Concordia. This is a tragedy that did not have to happen if the EU had reinstated its search and rescue mission."
Ex-migrant turned charity worker Saikou Jallow from Ghana warned against the dangerous crossing.
"This journey is not an easy journey. It is really a big risk," he said.
"So, for me, I would advise my brothers and sisters behind me, that it is better for them to stay back than to cross the sea, because this sea really is a risk. It is a big risk."
But on Monday more rickety vessels headed for European shores with tragic consequences.
Greek rescuers saved dozens of migrants but at least three people died when a boat ran aground off the island of Rhodes.
Elsewhere Italy and Malta were working to rescue at least two more migrant boats in distress.