Christian migrants 'thrown overboard in religious clash'
Comments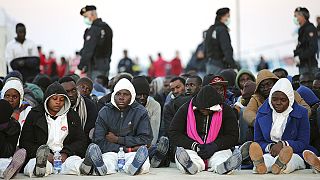 Fifteen African migrants have been arrested by Italian police for allegedly throwing about a dozen Christians overboard during the Mediterranean journey.
A statement by police in Sicily said the motive was religious differences and the aggressors were Muslim. One is said to be a minor.
They are being held on charges of multiple murder motivated by religious hatred.
The victims were from Ghana and Nigeria; their alleged assailants from the Ivory Coast, Mali and Senegal.
Reports of the attack come in a week when hundreds of migrants are thought to have died trying to cross the Med – including more than 40 in another incident reported on Thursday.
The murder suspects were among around 100 people on board a boat brought to Palermo.
The survivors said they made it alive by forming a human chain to avoid being thrown overboard.