EU urged to change course over world's deadliest sea crossing
Comments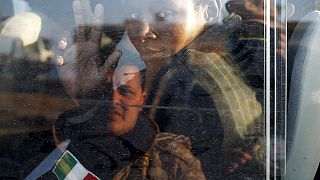 After yet more lives lost in the Mediterranean sea, human rights activists are demanding the EU changes course on its migration and asylum policies.
The UN says nearly 3,500 people died attempting to cross the Mediterranean Sea to reach Europe in 2014.
The EU has been widely-criticised for stopping funding of an Italian rescue mission last year, in favour of cheaper surveillance patrols.
The European Commission is set to announce a policy review of migration in May.
Iverna McGowan, acting director of Amnesty International in Europe, said: "This agenda on migration will frankly be useless unless there are clear clauses in there to address the issue of searching and rescuing in the Mediterranean.
"What we also need to recognise is that current EU policies are the creation of what we called Fortress Europe. So the effective sealing of land borders is also forcing people through the seas.
"So here again we need to see an increase in the resettlement of refugees and also a more global approach to reforming European migration policy."
Vanessa Saenen, from the UN's refugee agency, said: "If we look at the figures on a global level, 86% of refugees stay in their region of origin and most of the time these are the poorest areas of the world like Asia and Africa, but not Europe.
In the case of Syrian refugees, we see only four or five percent of them actually make it to Europe. And countries like Lebanon alone are taking more refugees than the entire European Union."