Dzhokhar Tsarnaev is convicted Boston Marathon bomber
Comments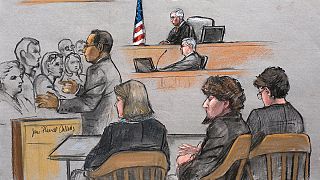 Dzhokhar Tsarnaev has been found guilty on all 30 criminal counts tied to the 2013 Boston Marathon attack.
The same jury will now determine whether he will be sentenced to death or to life in prison without possibility of parole. The penalty phase is likely to start next week. It will be more in-depth than the first phase and will include witness testimony.
Dzhokhar Tsarnaev has been convicted of killing three people and injuring 264 in Boston's best-attended sporting event, as well as shooting a police officer four days later.
Jurors spent just over 11 hours evaluating Tsarnaev's guilt in two days of fast-paced deliberations, following 16 days of testimony.